The Exeter Pound is a local currency that is equal in value to sterling. The difference is that by spending an Exeter Pound, you are encouraging local trade and therefore contributing to a more resilient local economy. 
Your Exeter Pounds can be spent in many businesses across Exeter, all of which are independent and local (full eligibility criteria can be found in the scheme rules). The businesses shown in this Guide signed up shortly before the currency launched in September 2015, but businesses are signing up all the time, and all of these can be found in our online directory and will be published in next year's guide.
Exeter Pound CIC was founded in 2014 and is a not-for-profit Community Interest Company. It is run with a board of volunteer directors from across the city, by some few employed staff and by a great many volunteers. Exeter Pound CIC is supported by Exeter City Council, Transition Exeter and Exeter's Federation of Small Businesses.
You can find out all about the Exeter Pound on their website (www.exeterpound.org.uk) or by reading the Exeter Pound Guide, a 24 page booklet explaining the how, the why and the where with maps and a directory of businesses accepting the local currency.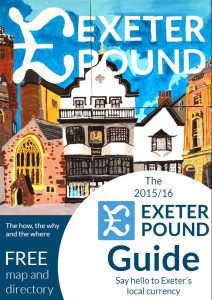 Exeter Pound is a local currency run by the people of Exeter, for the people of Exeter. We are all a part of making this currency work for us and our communities. So, we want give you all the help we can for you to get as involved as you like.