Transition Exeter believes that making a transition to using less energy overall, and more renewable energy, is a key aspect of tackling both climate change and our dwindling and insecure supplies of gas, oil and coal.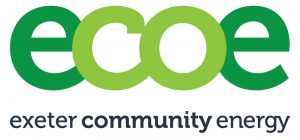 Exeter Community Energy (ECoE) is a Registered Society set up in January 2014 to generate community-owned renewable energy in Exeter. We want to have a positive impact on climate change, community development and the local economy by reducing Exeter's reliance on fossil fuels and using income from renewable energy projects to invest in other energy efficiency and renewable energy community projects.
As a community-owned coop, ECoE wants to benefit the city, its people and the environment. One element of this is sharing the financial benefits between shareholders, a fund for community projects and investment in further energy projects.
ECoE now have eight rooftop solar installations at Shillingford Organics, Wonford Community and Learning Centre, Exeter Central Library, Great Moor House, Exeter College, Pinhoe Rd Baptist Church, Glasshouse Lane Medical Centre and The Beehive Community Complex in Honiton.
These installations are just the start…we are currently investigating other possible solar rooftop installations, the potential for a renewable heat project and a household energy saving project.
Community energy projects are making a difference across the country, strengthening communities, helping the local economy and reconnecting people to the energy they use, as they became producers as well as consumers.
Our aim is to bring together people who are interested in building a sustainable future for our community, who care about climate change and the depletion of resources, and who want to reduce fuel bills, promote energy efficiency and address fuel poverty.
We can work together to learn and change the way we produce, use and think about energy, and in doing so create a more sustainable, resilient and prosperous community.